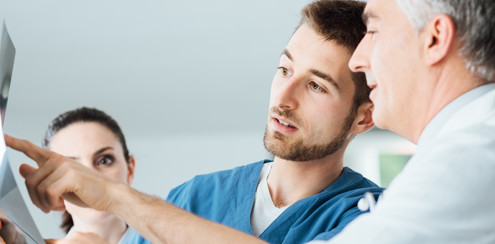 The life of a locum doctor can be challenging – between the short notice, the time spent travelling to distant medical facilities and the perceived lack of stability, locums are kept on their toes.
But going locum – also known as locum tenens work – can also be highly rewarding, with flexibility, variety and excellent pay rates some of the incentives for undertaking this line of work.
There are, however, some common misconceptions associated with locums, including that they are inexperienced and will never build experience, and that they can't build rapport. The reality is, locums are fully qualified and are just as important to Australia's healthcare system as practitioners with permanent or long-term employment.
Locums help keep our hospitals and medical facilities running while their peers take personal leave, a much-needed holiday or engage in personal development activities. Rural locums are particularly in demand, with the federal government funding various programs to provide access to locum services for regional and rural GPs.
Whether you're a practitioner considering locum work, or a hiring manager looking to solve a staffing issue, you've probably encountered some of these common misconceptions about locum doctors.
They don't know what they are doing
This is one of the biggest misconceptions about locum doctors. They are often thought of as young, inexperienced practitioners looking to gain further exposure to the medical world. A lot of them are somewhat green, but they are qualified and raring to go.
As a relief practitioner, you must be ready for any situation, given the shift usually becomes available at very short notice. Locums have to prove themselves in every single situation they are faced with, be it a fast-paced medical emergency in a city hospital or at a GP clinic in a country town.
They can't get permanent work or build decent experience
Such misconceptions are simply not true. The vast majority of locums choose this line of work for various reasons, including flexibility of working hours, varied locations, exposure to different hospitals and environments, and the desire to gain experience in a variety of fields. Some practitioners, especially recent graduates, simply don't know where they want to practice, or where they want to live in the world, so this line of work is a good introduction to different locations and environments.
Locum work, although generally short-term in nature, can provide a practitioner with a variety of skills to showcase on their CV.
Working locum tenens can help you build credentials that may not be otherwise gained while employed in a single workplace, and it shows you have ability to adapt to varied situations.
They are unable to build rapport with patients
Spending a very short time at a general practice or hospital does present challenges, including the fact that locum doctors can't build long-term rapport with patients. Some patients are not always happy to see a locum doctor instead of their usual GP, but with the Australian Medical Workforce Advisory Committee estimating that about eight per cent of the medical workforce consists of locums, patients can't always avoid meeting someone new.
Being a locum doctor has many advantages – you can start afresh with a patient, be thorough in any questions and examinations and you may even bring a different perspective to an ailment, especially if you are fresh from graduating. Locum doctors usually have an excellent bedside manner, so building rapport isn't such a problem.
They are given the jobs no one else wants to do
This is another misconception based on the attitude that locum doctors fall at the bottom of the proverbial food chain of medicine. The truth is, there are several reasons for requiring a locum doctor. From illness to holidays, training to staff shortages, locums are required in all hospitals, across a range of specialty areas, and like any doctor, they treat a huge variety of patients on any given day. If you're considering locum work, but have reservations about the lack of variety, be assured that every single patient who walks in the door has a different problem or ailment from the next.
Their earning power isn't as much as other doctors
The motivations for going locum tenens are varied, with some practitioners choosing lifestyle, flexibility and experience over income. There are however, opportunities to earn just as much as permanent staff. Locum rates are usually higher than that of a permanent employee, but they can be negotiated, and are influenced by a number of issues, including location, experience and urgency involved in filling the shift.
Some relief periods can be a few weeks long, and it is up to you as a practitioner to determine how much you want to work and how much you can earn.
Don't let misconceptions about going locum tenens prevent you from considering this line of work. It can be challenging yet rewarding, offer flexibility and variety and may present you with medical and life experiences you never thought possible.
« Back to the blog
Contact Us
Whether you are an RMO, registrar, specialist or GP, whether you are looking for a short-term or long-term position, BPM can find placements to suit your specific needs and availability.
Contact us today if you have any questions on the form below
Or, to register with us please click here