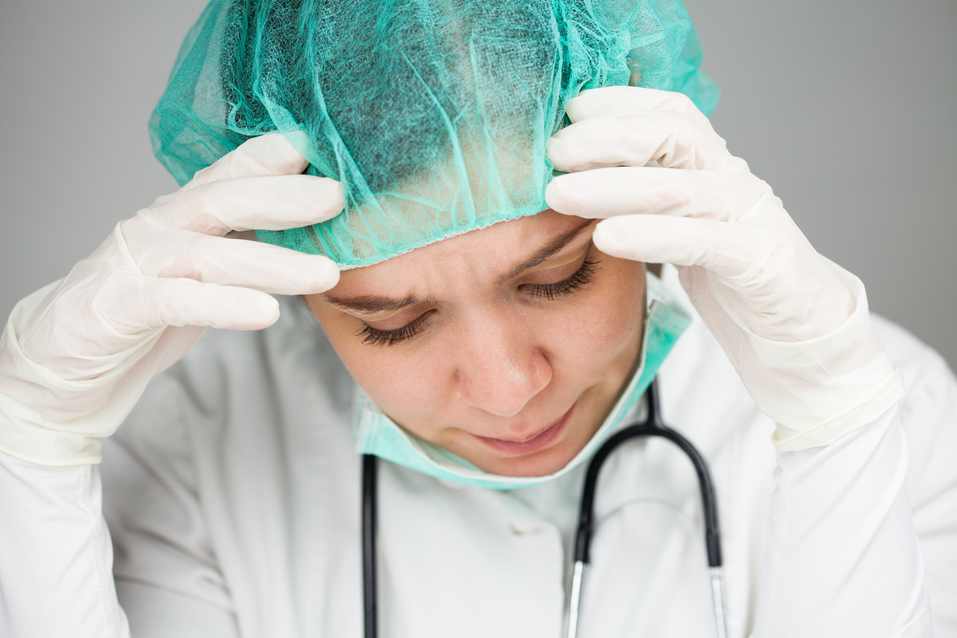 Earlier this year the Australian and New Zealand College of Anaesthetists launched a review of its guidelines on fatigue to address the growing issue of doctor burnout.
Burnout rates and dissatisfaction rates amongst doctors are at an all-time high. Overseas the studies show that around half of doctors consider themselves 'burnt out', and the figures are estimated to be similar here in Australia.
Many doctors working 'unsafe' hours
In fact, a 2016 audit by the Australian Medical Association (AMA) found that 53 per cent of Australian hospital doctors were on rosters that placed them at significant or higher risk of fatigue, and stress. It also found that many are working unsafe hours — some more than 70 hours in a single shift.
For the purposes of the AMA audit, 716 salaried doctors and doctors-in-training were asked to keep an online diary of their work hours, on-call hours and sleep time over a one-week period. The results showed that Intensive care physicians and surgeons were the most stretched. One doctor reported working an unbroken 76-hour shift, alongside others who endured shifts of between 53 and 72 hours.
Junior doctors were seriously affected, often working long hours as well as trying to balance study and exams with the continual demands of learning on the job in high pressure circumstances, placing them at high risk of mental and physical exhaustion.
Compromise to doctors' wellbeing and patient care
The AMA was shocked at the findings, despite the fact that the 2016 study did show improvements of previous years. Extended shifts and uncompromising workloads not only put doctors under enormous stress, but also, ultimately, have the potential to compromise patient care. After it released the findings of its audit, the AMA called on the Australian on State and Territory Governments to better structure rosters and improve staffing levels to ensure safer workplaces for doctors. In 2016, the AMA also revised its National Code of Practice for Hours of Work, shift work and Rostering for Hospital Doctors. This code provides practical guidance on how to manage fatigue, and eliminate or minimise the risks associated with shift work and extended working hours.
The AMA wants this code to be adopted as the minimum standard by all States and Territories in an attempt to better look after health professionals, and reduce the high levels of stress and fatigue, that can lead to burnout and depression and also to stop talented people from leaving the profession.
How many hours are too many?
As much as the responsibility for rostering and managing doctor working hours lies in the hands of hospital administrators, doctors are also encouraged to prioritise self-care outside of working hours, and just as importantly, while on the job.
In Australia, the standard full-time working week is between 35-40 hours. Any doctor working well beyond that, is doing too many. While obviously working as a doctor, it is not always easy to just 'clock off' – patients require care, however, doctors are asked to ensure they do what they can to take regular breaks while on shift. Obviously, particularly for junior doctors there is also a desire to get ahead and many would never admit to struggling to cope with long hours and gruelling shifts for fear of creating 'career suicide'.
But mental health amongst doctors is a growing area of concern and there is no doubt that the pressure of the job, with little down time between shifts, is a major contributing factor. Managing stress is vital, and requires paying attention to wellness needs such as sleep, nutrition, exercise, spiritual pursuits, and interactions with family and friends.
However, one doctor from the United States wrote in an opinion article published in Frontiers in Pediatrics that his pursuits of work-life balance that "actually added additional, often unrealistic, expectations to already stressful lives."
Is work-life balance a myth?
Dr Andreas Schwingshackl, M.D. an assistant professor in paediatrics at the University of California, Los Angeles, and Mattel Children's Hospital in Los Angeles, CA suggested that traditional methods of seeking work-life balance implied that "life is good and work is bad." For him, this set up an unhealthy internal conflict, until he learned a way to reconcile the two.
"Once I was able to integrate rather than separate all my daily activities, [and] harmonize rather than divide my time not only between work and life but also between clinical care and research, the pursuit of balance shifted from work-life to life-nature-universe. The result was an overwhelming daily feeling of balance," Dr. Schwingshackl explained.
Obviously, we each have different tolerance levels for stress and also different ways of dealing with it. If you feel at risk of burnout, depression or high levels of stress, seek help.
Beyond Blue: 1300 22 4636
« Back to the blog
Contact Us
Whether you are an RMO, registrar, specialist or GP, whether you are looking for a short-term or long-term position, BPM can find placements to suit your specific needs and availability.
Contact us today if you have any questions on the form below
Or, to register with us please click here